Features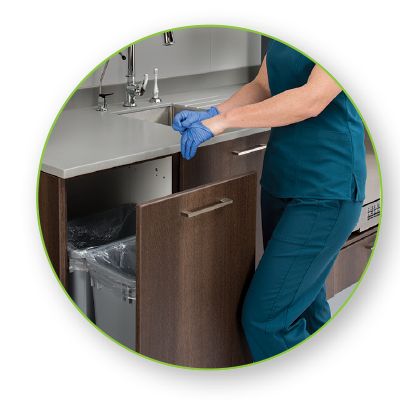 Touch-to-open waste drawer
Featuring Grasse™ Sensomatic Electronic Assisted Opening System for waste drawers.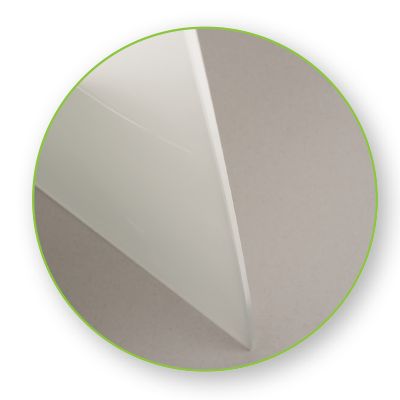 Tempered glass divider
In accordance with CDC guidelines, the Solaris 2 features an etched tempered glass divider separating the decontamination area.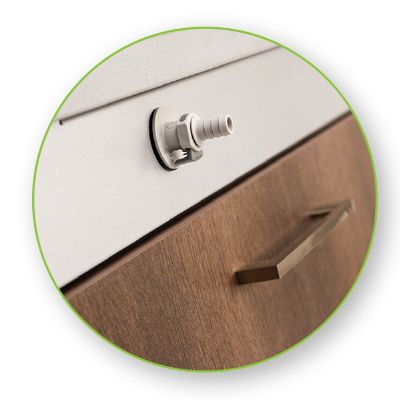 Vacuum-assisted reservoir
A unique vacuum-assisted reservoir drain eliminates the use of buckets and maintains a clean process for the disposal of sterilization waste.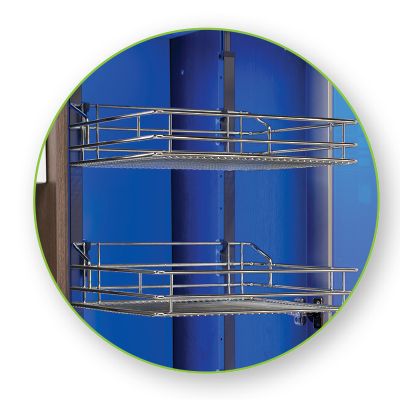 Adjustable wire baskets
Wire baskets accommodate all varieties of cassettes and packs while interior blue lighting provides easy identification of sterile cassettes.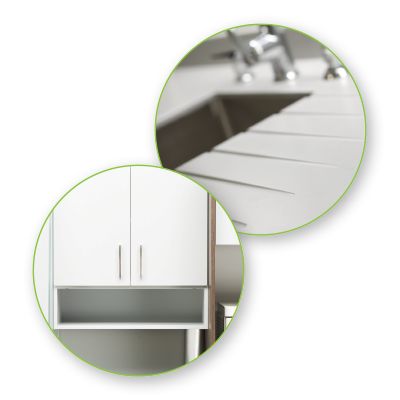 Additional Standard Features:
• Soft close doors and drawers
• Electronic assist waste module
• Electrical with GFCI and air quick disconnect
• Frosted tempered glass divider panel
• Sensored illumination control
• Single under-mount stainless steel sink
• VistaPure™, module with VistaPure, system and storage tank
• VistaClear™, faucet
• Countertop mounted HVE
• Chrome sensor faucet with pull-out spray feature
• Aluminum framed frosted glass doors in contaminated and sterile storage modules
• Water resistant MDF board in sink, VistaPure™ and Steritower modules
• Above sink glove and towel dispenser
• Wood shelves, up to 3 per module in uppers
• New drop edge countertop bull-nose
• Wide variety of standard Wilsonart and Nevamar laminate selections
• Wide variety of standard Wilsonart solid surface countertop options
• Airtec-fusion bond technology edgeband for superior adhesion and bond
Upgrades and Options:
• Recessed Ultrasonic Module
• Counter trash drop
• Non-motorized trash module (door)
• Top-mount stainless steel double sink
• Non-sensored chrome pull down faucet
• Tapmaster™
• Wood divider panel
• Glass door upper options for all upper storage
• Upper bi-fold door lift system
• Two tone laminate color scheme